I recently referred a colleague to your website and I thought I would drop you a note to tell you how much I enjoyed your workshop on strategic planning at the NeighborWorks conference in December. It has fundamentally changed the way I think about this issue. Many thanks for making the time to share this information with agencies like ours.
— Denise Matyka,
Executive Director, Project Home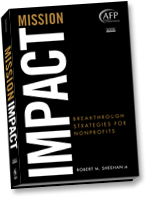 Mission Impact Breakthrough Strategies for Nonprofits By Robert M. Sheehan, Jr., PhD
It's time to jump-start your nonprofit's vision. Get your team working together more creatively and strategically. Design strategies that will lead it to breakthrough performance in mission impact.
Beginning with a discussion of exactly what strategy is, Mission Impact will empower you to design, develop, and implement breakthrough strategies that increase your nonprofit's mission impact and improve the quality of life for others—after all, that's why you're in "business," isn't it?
It is a complete guide for designing and carrying out a strategy development process for your nonprofit organization. It will help you understand how to apply the concepts presented, with a fresh look at:
Key steps a strategy development group goes through in creating a strategy

How to create an aspirational vision that will guide your organization to breakthrough performance

Five-year strategic stretch goals designed to catapult your organization toward its vision

The issues senior management should consider as it implements strategy

How to design a process to fit the needs of your organization

The factors your organization should consider as it designs a strategy development process
Drawing from the author's more than thirty years of experience in the nonprofit world as a practitioner, academic, volunteer, and consultant, Mission Impact fuels strategic change, offering expert insight into how the process of strategy development will guide your nonprofit toward its desired future.
Click here to order your copy of Mission Impact Breakthrough Strategies for Nonprofits By Robert M. Sheehan, PhD